Our Real Estate Team Prefers the Personal Touch
We know that you have a choice when hiring an agent or team to represent you when selling your home. We truly appreciate the opportunity to present our proven approach to you. Before our face-to-face meeting, we invite you to peruse our sellers eguide and get to know a little about the step-by-step plan we use to get our clients' homes sold.
The process of selling a home in today's ever-changing marketplace can be stressful and frustrating. You're ready to move to your next destination but one of the largest assets you own needs to be sold. We make the process much more enjoyable by explaining the process and setting clear standards and expectations for our sellers so that when it comes time to hand over the keys, you know that you had the best service and guidance during this sale.
As a team, we provide many services throughout the process of selling your home, including:
Accurately pricing your home

Enhancing your property to maximize sale price

Providing unmatched marketing

Securing a qualified buyer

And much, much more
Regardless of the price of your home, when you hire us as your real estate team, both you and your home will be prepared for a successful sale
$675,000
COMING SOON
8713 Polished Pebble Way Laurel, Maryland
3 Beds 4 Baths 3,415 SqFt
Listing courtesy of EXP Realty, LLC
$675,000
COMING SOON
8713 Polished Pebble Way Laurel, Maryland
3 Beds 4 Baths 3,415 SqFt
Listing courtesy of EXP Realty, LLC
$535,000
ACTIVE
7904 Omega Court Kingsville, Maryland
4 Beds 3 Baths 2,766 SqFt 0.810 Acres
Listing courtesy of EXP Realty, LLC
$485,000
PENDING
2452 Eutaw Place Baltimore, Maryland
10 Beds 5 Baths 6,708 SqFt
Listing courtesy of EXP Realty, LLC
$675,000
COMING SOON
8713 Polished Pebble Way Laurel, Maryland
3 Beds 4 Baths 3,415 SqFt
Listing courtesy of EXP Realty, LLC
$535,000
ACTIVE
7904 Omega Court Kingsville, Maryland
4 Beds 3 Baths 2,766 SqFt 0.810 Acres
Listing courtesy of EXP Realty, LLC
$485,000
PENDING
2452 Eutaw Place Baltimore, Maryland
10 Beds 5 Baths 6,708 SqFt
Listing courtesy of EXP Realty, LLC

$449,000
ACTIVE
4402 Macworth Place Nottingham, Maryland
3 Beds 3 Baths 2,476 SqFt 0.260 Acres
Listing courtesy of EXP Realty, LLC
$675,000
COMING SOON
8713 Polished Pebble Way Laurel, Maryland
3 Beds 4 Baths 3,415 SqFt
Listing courtesy of EXP Realty, LLC
$535,000
ACTIVE
7904 Omega Court Kingsville, Maryland
4 Beds 3 Baths 2,766 SqFt 0.810 Acres
Listing courtesy of EXP Realty, LLC
$485,000
PENDING
2452 Eutaw Place Baltimore, Maryland
10 Beds 5 Baths 6,708 SqFt
Listing courtesy of EXP Realty, LLC

$449,000
ACTIVE
4402 Macworth Place Nottingham, Maryland
3 Beds 3 Baths 2,476 SqFt 0.260 Acres
Listing courtesy of EXP Realty, LLC
$334,900
COMING SOON
8818 Dove Drive Perry Hall, Maryland
2 Beds 4 Baths 1,760 SqFt 0.090 Acres
Listing courtesy of EXP Realty, LLC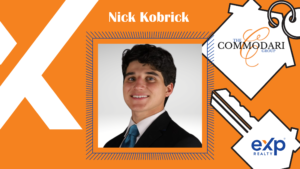 Staff
The Commodari Group of eXp Realty is pleased to announce the addition of real estate agent Nick Kobrick to its team. Nick is joining the
Read More »