Communications and Clarity When Working With a Realtor
The late, great Jim Rohn, entrepreneur, author, and motivational speaker, coined the expression: "Don't wish it were easier, wish you were better." That's what we strive to do — to be better realtors, better guides, and better counselors to our clients.
When you choose The Commodari Group, you're not just hiring a realtor, you're hiring a team of experts with over 40+ years of combined experience — not to mention the massive support system of eXp Realty, the fastest growing real estate brokerage in the nation.
The Commodari Group has a commitment to redefine the way real estate is bought and sold in Maryland. We are committed to integrity, excellence, initiative, and teamwork to ensure your success. We believe that doing things right the first time eliminates problems, conflict, and anxiety in the home-selling process. We pride ourselves on having honest conversations and making solutions-based decisions. Much of our success can be credited to our commitment to making lifetime relationships with our clients. 
What to Expect Working With The Commodari Group
Preparation
The sooner we get started preparing your home for market, the sooner we can get serious buyers looking at your home and making offers.
We start by reviewing market conditions and ensuring your home is presented in its best light. This includes fixing defects, taking photographs, receiving keys, and delivering signs and flyers.
To make sure you're ready to get the best contract, we do the following activities:
Research nearby home values.
Determine the purchase trend in your area.
Time the sale based on your needs.
Identify the exact services you want and don't want.
Review contract options that work for you, and determine what is negotiable and what isn't.
Walk you through buyer qualifications, terms to consider when you get an offer, home inspections, and warranty options.
Identify your unique marketing proposition, the home's strengths, and special qualities.
Schedule showings that meet your schedule and ability to leave the house.
We also review what you can expect step-by-step in the typical home sale, including the offer, counter-offer, negotiations beyond price, and agreement.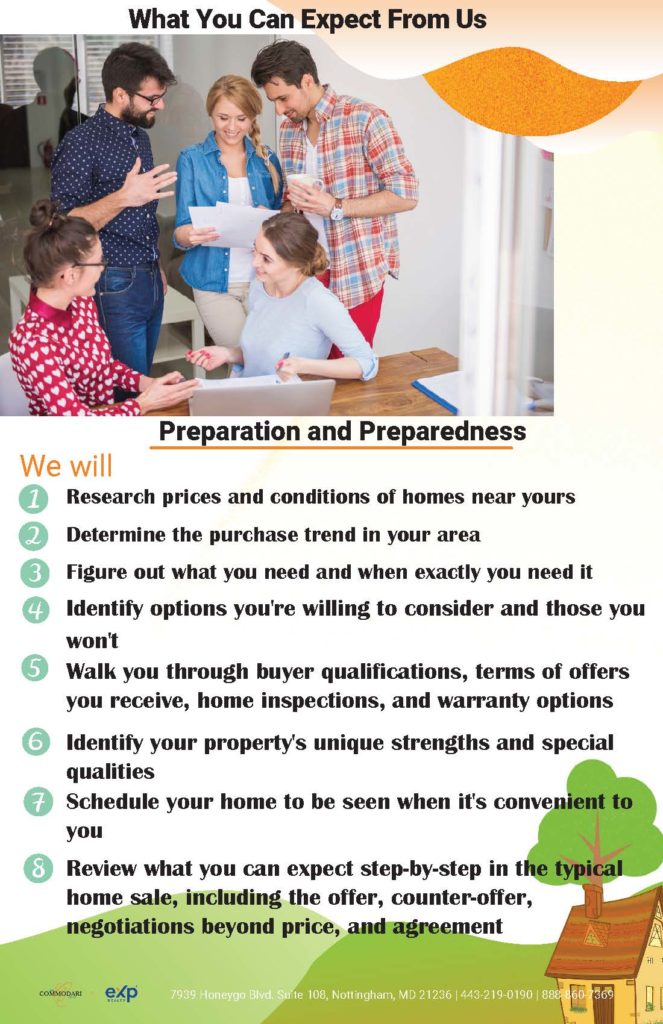 Clear and Open Communication
Our commitment to our clients isn't about locking down the listing. We want to keep you apprised of everything that's happening when it comes to the sale of your home.
We believe more information is better to keep our clients happy. We don't want to leave anyone wondering what happened to us or what is the status of the sales process.
During the sales process, we set interim goals and track activity to measure shifts in the market or a buyer's interest.
You will receive a printout of your listing, weekly activity reports, and buyer feedback via email and phone calls.
You can determine the best communication method and frequency of these reports to suit you.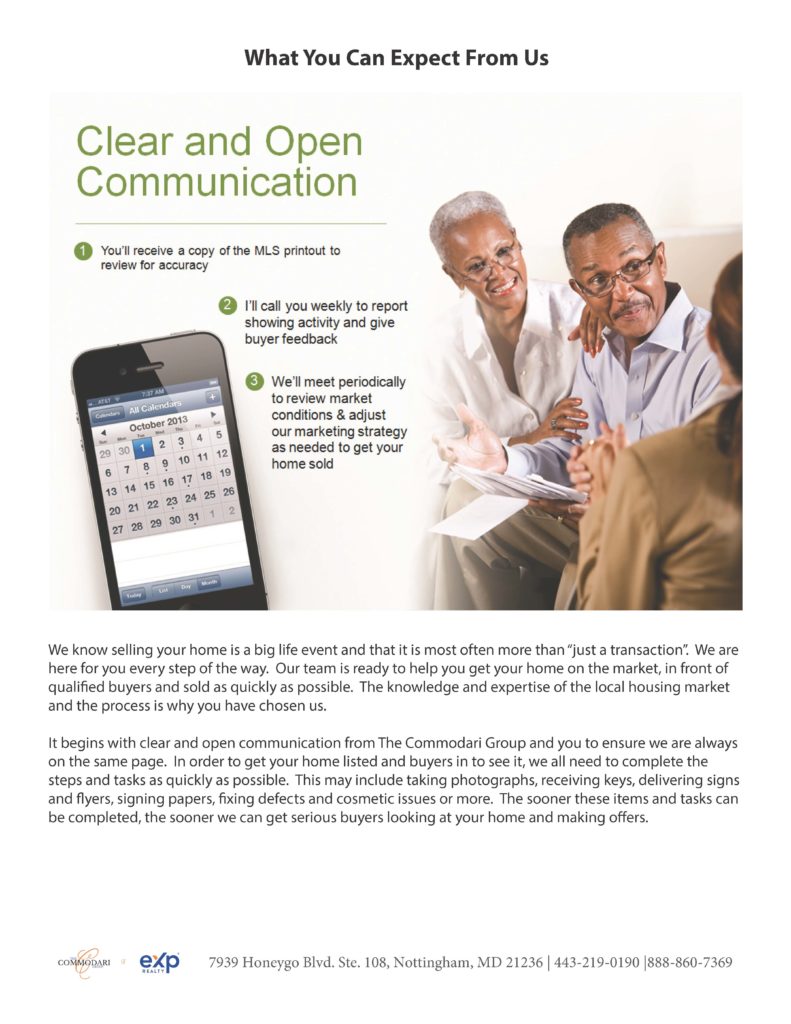 Complete Transaction Management
When we go to contract, we make sure the transaction checklist is complete. From financing, inspections, scheduling repairs and appraisals, and coordinating the move, we're on top of every detail to ensure you close in a timely manner with as little stress as possible.
As with every aspect of business — and life — real estate can throw some curve balls. When we start each day, we look to face the good along with the less than good. Challenges teach us to grow and become better agents, business people, members of the community, leadership figures, and friends. At The Commodari Group, we find satisfactory solutions for every challenge that arises.