Competitively Pricing Your Property
A frequently used adage in the industry is that "real estate is about location, location, location." That's not true. Real estate is about three variables (as we explain further in this blog) that will make or break a house sale: location, condition, and PRICE.
When the three criteria are successfully combined, a seller will be successful in selling a house in the shortest time possible for the most amount of money.
At The Commodari Group, we show you how we approach the competitive market analysis to come up with the best price. We find the sweet spot to market a home at exactly the right price to draw the buyers.
We're so good at this analysis that in the last 12 months, we've sold our homes at 102% of list price.
That's not because we underprice our homes. We price them to make buyers compete. Ultimately, pricing is a result of what the market can bear. Buyers want the most bang for their buck and sellers want the most they can get. 
Pricing is a science, but it's also an art. There are mathematical equations we use to reach a price that's right, but we don't rely solely on math. Condition of the home and larger economic factors will pay a role. 
Here are some factors to consider when pricing your home to sell:
Pricing your property competitively will generate the most activity from agents and buyers. It is the most effective way to ensure a successful sale.
Pricing your property too high may make it necessary to drop the price below market value to compete with new, well priced listings.
Factors That Influence Market Value
Supply & Demand
Economic Conditions
Asking and Selling Prices of Competing Homes
Condition of Your Home
Buyer's Perception of Your Home
Factors With Little or No Influence on Market Value
The Price You Paid for the House
What You Expect in Net Proceeds
The Cost to Rebuild the Home Today
The Dollar Amount Spent on Improvements
Pricing Your Home to Sell
Many sellers are tempted to list their home with the agent who quotes the highest price. Please keep in mind, the agent does not set the price, the seller does not set the price – the market will set the price that your home should be listed. No amount of marketing can sell an overpriced home!
The value of your property is ultimately determined by what a buyer is willing to pay and a seller is willing to accept at that time. Buyers make their pricing decision based on comparing your property to other properties SOLD in your area. Historically, your first offer is usually your best.
Plus, research has shown that people avoid houses that have been on the market a long time. If you overprice to start, usually you will end up selling for less than if you priced correctly to start.
We are here to help you price your home right!
Getting Ready to Sell Your Home
Whether you've waited a long time before making the decision to move or you've recently decided to pull the trigger and just do it, you need to get your house ready in a timely manner to get it on the constantly shifting market.
Where to Start
First, provide the information a realtor needs about your home and your goals. Start with our Seller Consultation Questionnaire. You can download this two-page form: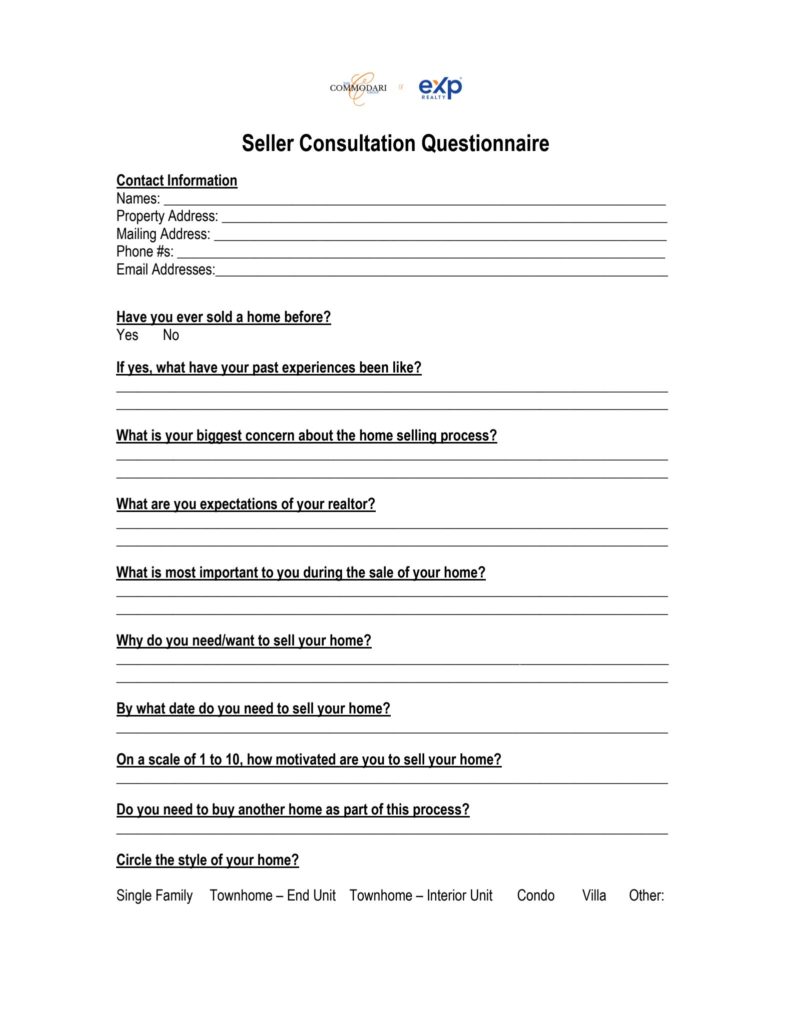 Follow Our To-Do List to Get Organized
The following to-do list can be completed in just a few days or could take several weeks. If you're ready to get moving, organize these to-do items:
Find out the amount of the mortgage left on the house, if any. Locate your bank documents on the mortgage payoff or deed.

Determine whether you have any outstanding liens or bills associated with the property. You can do this by checking with state and local taxing authority websites.

Take stock of upgrades. List out all the improvements you've made on the house and try to locate any receipts for work that has been completed in the last 10 years (this will help during tax season).

Clean up the clutter. Talk to a moving company and possibly some estate sales representatives. These companies can help you pack up items for storage, tell you which items you may wish to let go have value, and even sell them on your behalf.

Make donations of items that you don't want. Make sure to get receipts for a possible tax deduction next year. If you're highly motivated to make a few extra bucks, hold a yard sale to clear out clothing, tchotchkes, and items you no longer use.

Meet with a realtor to go over any repairs or improvements that need to be made. These can be facial, like a quick paint touch-up, or more extreme, like damage repairs. In any case, it's good to know what will impact price or appeal to buyers.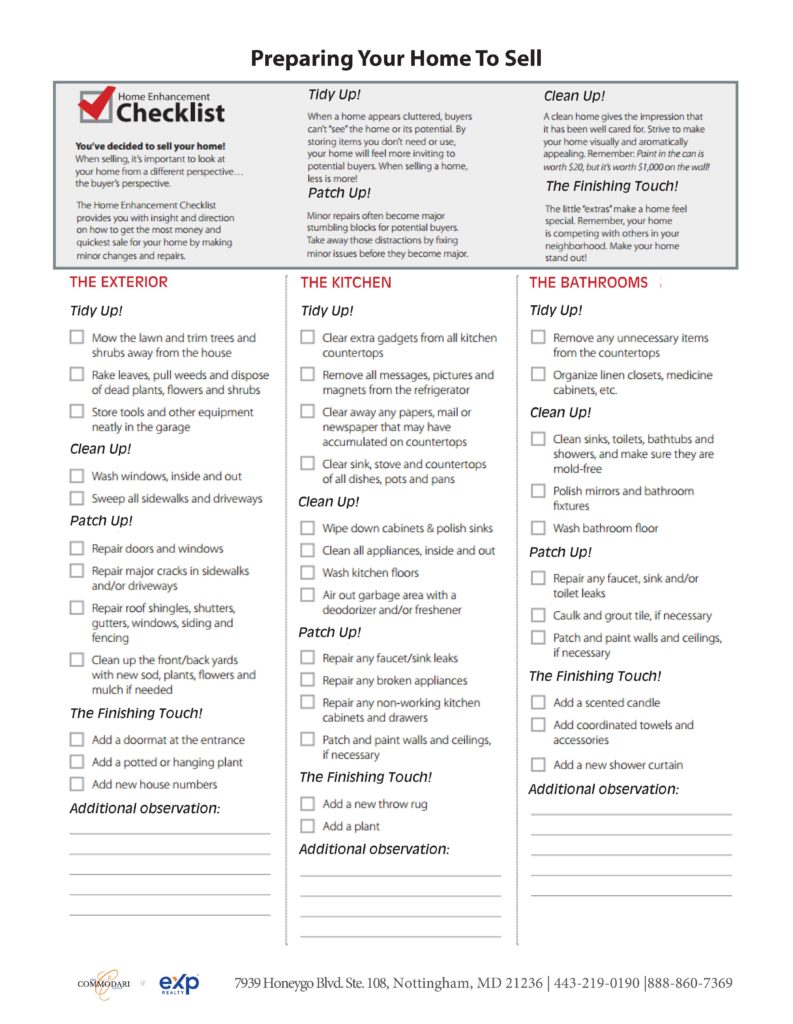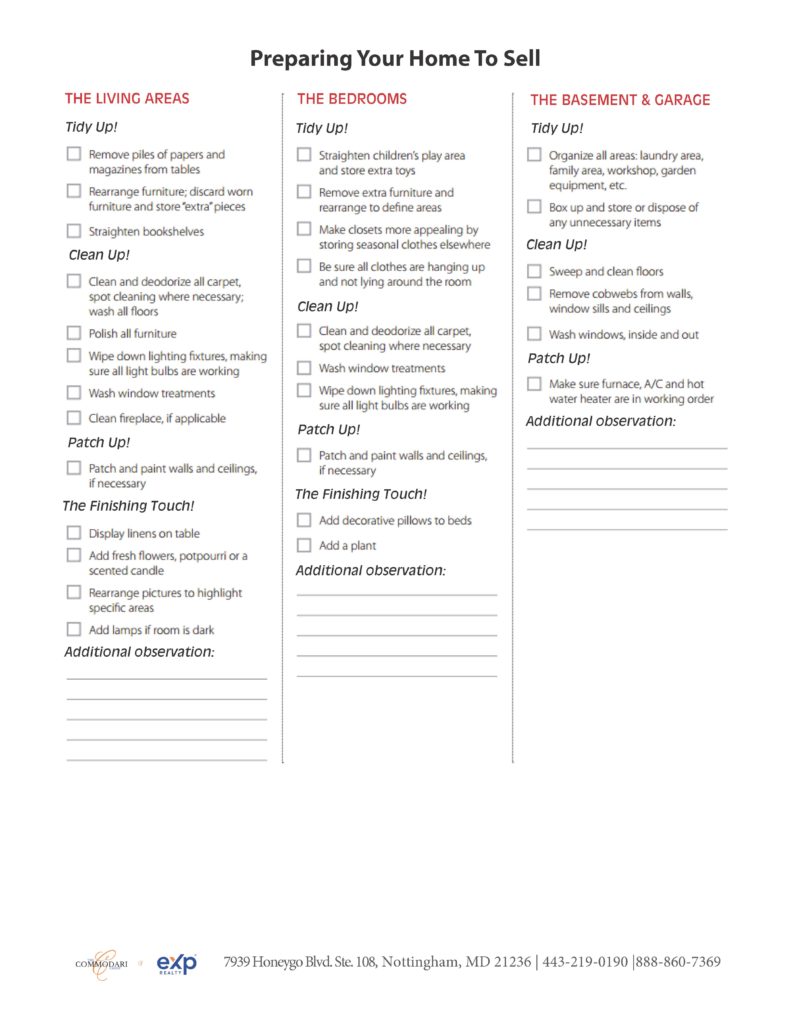 Does Selling Seem Overwhelming? We Can Help You Through It.