In a move to maximize the massive growth the company is experiencing, The Commodari Group, led by real estate agent and public speaker Robert Commodari, is moving its license to eXp Realty in Nottingham, MD.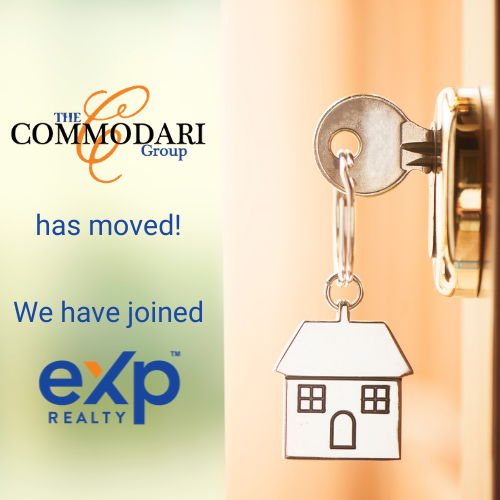 The Commodari Group's move positions it to promptly hire more agents and serve more clients.
​"A rising tide raises all ships. It's time for The Commodari Group to supercharge its already stellar service to homebuyers and sellers with greater opportunities for personal success among the real estate team," Rob said.
Awareness and Fulfillment, Like the Bestseller Says
The attraction to eXp comes in part from its support for innovation, integrity, service, and transparency, many of the same values Rob teaches in his book Better Than You Think: Developing Awareness for a More Fulfilling Life.
​"I'm a big believer in practicing what I preach, especially when the path forward seems unclear. When I was approached about joining eXp, I listened to the voice inside and knew that to create the momentum we needed for the next phase of The Commodari Group, it was time to move to a brokerage that would deliver the tools my team deserves to build abundance and financial freedom for themselves," Rob said.
eXp Realty has quickly grown because of its state-of-the-art technology, making it easier for agents to be more effective and responsive to buyers and sellers. Clients benefit from the speed and efficiency that the brokerage provides and the unsurpassed support it offers. Cloud-based services can help agents answer questions in real time, which enables deals to close more quickly.
A Powerhouse eXp Office Right Here in Baltimore
With the move, Rob joins several premier agents from the Baltimore region at a new office. The powerhouse agencies banding together in the single location include Lee Tessier, John Kantorski, Chris Drewer, and Jim Stephens.  
"All the agents that are involved here are very experienced in this business. There's a synergy between us. We're all people who worked together in the past. We are like-minded and well-aligned," said Jim Stephens, who worked with Rob at three other brokerages in the past 20 years. "It's a very exciting time for us and we're enthusiastic about what lies ahead."
​eXp Realty's innovative business model gives agents investment and ownership incentives through a company revenue-sharing agreement.
"eXp is offering more than profit-sharing with our agents. It is offering buy-in from the first sale," Rob explained. "The old model gave whoever owned the franchise the primary benefit in the brokerage relationship. That's no longer the case. The agents who come work with me at eXp have ownership in eXp through stock purchases and revenue share. It's a win-win for all of us and I could not be more pleased by the enthusiasm the entire team feels moving forward."
The members of Rob's team making the move to eXp include real estate agents Linda Braerman, Debbie Richardson, and Andrew Pikes, and support staff Dina Ulrich, Jeff McCorry, and Sharon Kehnemui. With the move, he has also added new transaction coordinator AnnMarie Chaney.
The Commodari Group's new address is 7939 Honeygo Blvd. Suite 108, Nottingham, MD 21236. The broker phone number is 888-860-7369.
eXp Realty trades on NASDAQ as EXPI.