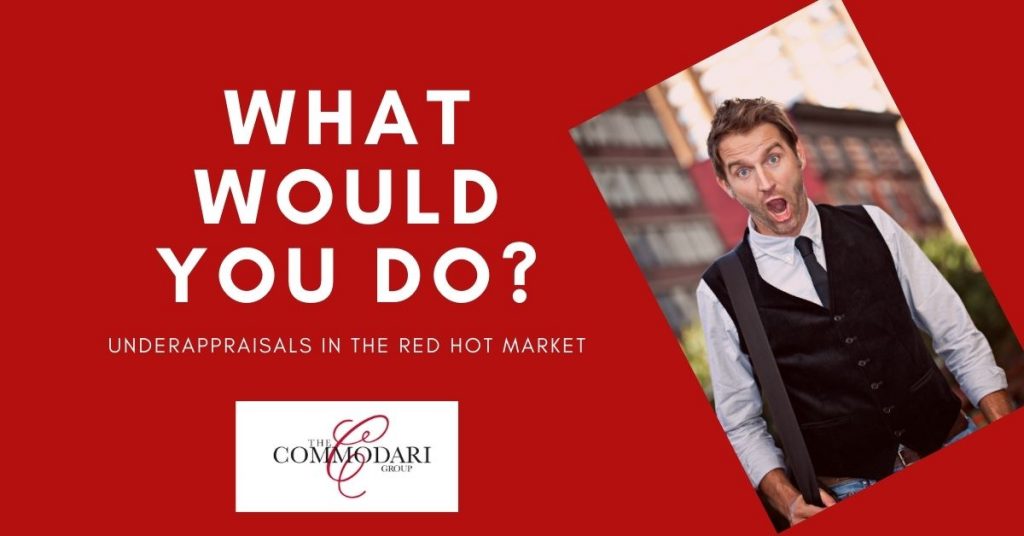 The real estate market is really off the charts these days. In the beginning of the year when COVID hit, nobody knew what was going to happen. At the Commodari Group, we're having our best year ever.
I know we are not the only real estate agency benefitting from this housing rush. Just look at the numbers in this recent Baltimore Sun article:
Median sales prices at 10-year highs and median days on the market dropped in September to the lowest point in recorded history.
The ratio of median sales price to original list price reached 100 percent, the highest it's been in 10 years.
Median days on market was nine in September, down from 27 days the prior year.
Single-family homes sold for a median price of $405,000 in September, another high for the decade.
Inventory fell by more than half since last September, with a little more than a month's supply of homes for sale at current pace.
Overall, this seller's market has been great for my clients, but it has caused a couple side effects — skyrocketing demand means offers are coming in at prices higher than the market can bear. A lender is only going to lend based on comparables but a house is going to go under contract at whatever price someone is willing to pay for it. That means buyers need to have cash in hand or sellers need to accept less than what is the negotiated price if the house doesn't appraise at the agreed-upon price.
As the housing stock is limited, buyers are bidding property up because they know they have few options. Sellers, seeing the rush, are happy to take more money for their property, whether the property is worth it or not. But then they face the reality check — in this fast-moving market, they often lack comps to support the contract price. If a property is offered at $200,000, because other comparable homes in the neighborhood went for $200,000 but then a contract is offered at $220,000, where are the other homes in the neighborhood to support the lender's requirements for comps?
If I have a buyer and the property is hot and getting multiple offers, we can go as high as we can go but the buyer and the seller have to be willing to make up the difference. In some circumstances, the buyer may be willing to come to settlement with cash. But that's not often the case. In other cases, the seller has to come down on the price if they want that deal to close or they can start over with a new buyer. That's often dependent on the seller's circumstances.
I recently had a listing underappraise. The buyer bid $20,000 over the listing price but asked for $10,000 back in seller assistance. OK, asking for seller assistance is pretty normal. But then the property appraised at the list price. That's $20,000 less than the contract price. The buyer could not afford to bring $20,000 to the table and still needed seller help.
Ultimately, the seller came down to the appraised value and still gave the help. Why? Because he had already bought a house out of state and had moved. We could have gone back to the market, but the appraisal came in where we listed it so there's no sense waiting to find a new buyer with an extra $20,000 in cash to offer another contract. That's not worth the risk. The seller knew he had a bird in hand.

This happens occasionally. But imagine having 20-25 properties at once, most with these kinds of variables or unexpected events. How do you deal with it?
I, for one, try to remain mentally and physically fit. You have to be tough; you have to have the right frame of mind to manage a dozen or more contracts at once because it will wear you out. I say my prayers. I meditate, I read, I work out. Admittedly, I occasionally put my head between my legs and hope for the best. But all these practices are key factors to have a healthy state of mind. The real estate business is a lot of effort and a lot of psychology. You have to know how to read people. You have to be willing to have tough conversations. When you do, you develop greater transparency and accountability. In the end, you grow as a real estate agent and you develop the skills for managing other parts of your life.
In the meantime, you've got to keep building that database. So that's enough reflection for now. Time to get back out and negotiate another deal.